Born 22 June 1845.
Deceased 10 June 1906.
Richard John Seddon is to date the longest-serving Prime Minister of New Zealand. He is regarded by some, including historian Keith Sinclair, as one of New Zealand's greatest political leaders. Sometimes derisively known as King Dick for his autocratic style, Seddon dominated the Liberal government for thirteen years, achieving many social and economic changes.
Seddon (Marlborough) and Seddonville (West Coast) are named after him.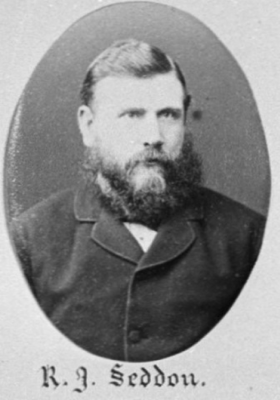 Biography
Richard John Seddon was born at School Brow, Eccleston, near St Helens, Lancashire, England, on 22 June 1845. His father was Thomas Seddon, headmaster of Eccleston grammar school, who had married Jane Lindsay, a Scot from Annan, Dumfriesshire, and the teacher at the Eccleston denominational school. When she married her school closed. Richard had an elder brother and two sisters; two other siblings died in infancy. The family was brought up in the Anglican church.
Richard is said to have been an unruly boy. The only subject that interested him at school was mechanical drawing; according to one account, he decided to become an engineer after winning a prize in this subject. His father tried unavailingly to make a Latin scholar out of him: 'In my father's school, I was one of a number of boys who were taught extra subjects, and after a time I came to regard it as little short of despotism that I should be kept indoors struggling with Latin while most of the boys were in the open playing at different games. I expostulated by not learning my lesson, with the usual result that might be expected from a schoolmaster, especially when his own son was at fault.' He was removed from school at the age of 12, allegedly because he was regarded as a difficult and unpromising pupil.
Between the ages of 12 and 14 Richard Seddon worked on his paternal grandfather's farm at Barrow Nook near St Helens. Relations between them appear to have become very strained. He then embarked on an apprenticeship at the workshops of Daglish and Company, engineers and ironfounders of St Helens. It is difficult to know exactly what happened during these years, as there are numerous conflicting accounts. One report stated that he was dismissed after a dispute over increased pay for apprentices, but another suggests that he served a five-year apprenticeship there and gave his employers complete satisfaction. He worked for a short time at the Vauxhall Foundry in Liverpool, but he became seriously ill with smallpox and on recovery was without a job as the foundry refused to have him back. It is not clear whether he actually finished his apprenticeship, although he did gain a Board of Trade engineer's certificate.
He decided to emigrate to Australia, probably with the aim of trying his luck on the goldfields, and in 1863 worked his passage to Melbourne on the Star of England. After a period at the Victorian government railway workshops at Williamstown, he prospected on the Bendigo goldfields, with little success. He then returned to the railway workshops where he established a reputation for great physical strength and a fondness for demonstrating it: he became a noted boxer and athlete. There is disagreement over whether he showed any interest in politics. One story says he was reported for speaking to his workmates on behalf of a candidate.
Seddon became engaged to Louisa Jane Spotswood in Melbourne, probably in 1865 or early 1866. Her late father had run a ferry at Williamstown. The family appears not to have given much encouragement to Seddon, and marriage was not permitted until he had improved his prospects – which did not look good. He may have been laid off from his job at the railway workshops about the time of his engagement.
In February 1866 he sailed for Hokitika, New Zealand, on the Alhambra, arriving on 1 March. He went to the Waimea gold diggings, joining an uncle, Nathan Seddon, who had written urging him to come. He is said to have engaged in hydraulic sluicing for gold on a large scale and apparently constructed reservoirs and water races to work the terraces at the right-hand branch of the Waimea Creek. Among his associates was James Steele with whom he had worked on a claim at Bendigo and who subsequently settled at Kumara and supported him politically.
One account says that Seddon made a good deal of money through mining activities, enabling him to open stores at Big Dam and elsewhere. It does appear that he prospered, because he was able to return to Melbourne and marry Louisa, who had waited three years for him. The ceremony took place at Trinity Church, Williamstown, on 13 January 1869. The couple then left for the West Coast, New Zealand.
Download this PDF to Continue reading about Richard John Seddon.