Foundation Staff and Students
When Spotswood College opened on 2nd February, 1960 there were ten academic staff members and 136 students (63 Boys and 73 Girls) all third formers.
THE FOUNDATION HONOUS BOARD
THE LECTERN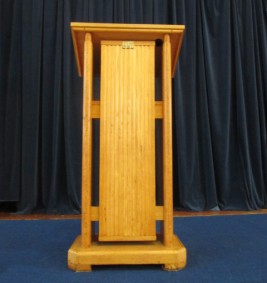 Lectern donated by foundation students (pictured on the Hall stage)
The Foundation Staff
By mid-1960 the staff grew to eleven, as pictured below.
The Foundation Students (taken in late 1960)
The Foundation students donated the lectern for the stage.