THE HISTORY
THE BEGINNING:
When Spotswood College opened in 1960, there was no gymnasium built for Physical Education classes or indoor sporting codes. Major fund raising activities took place throughout the 1960's and on the 11th March, 1970, the gymnasium was opened.(This gymnasium was closed by the Ministry of Education on Wednesday 29th May, 2014). The new gymnasium was opened on Wednesday 18th March, 2020.
Shortly after the opening, weekly Volleyball practises began for both boys' and girls' teams. The College has consistently entered teams in local and national tournaments since 1970, and has established a fine reputation. Spotswood College has been consistently ranked in the Top 10 nationally for co-educational high schools for Volleyball success since the late-1980's.
THE COACHES:
Spotswood College has been lucky to have had some outstanding Volleyball coaches since 1970. These coaches have all contributed towards the success that the various teams and individual players have achieved.
Teaching Staff:
John & Marilyn Kennedy Girls 1970
Paul & Robyn Keown Girls 1971 & 1972
Dot Andrews Girls 1973 - 1988
Craig Phillips Boys 1977
Phil Gayton Boys 1978 – 1996
Junior Girls 1986 –
Senior Girls 1987 –
Antony Joe Senior Girls 1992 – 1995
Senior Boys 1996 –
Junior Boys 1997 –
Non-Teaching Volunteers:
Regan Potangaroa Boys & Girls 1988 - 1990
Peter Terlinden Boys 1989 – 1995
Dick Borland Boys 1991 & 1992
Michael Mc Lorinan Junior Boys 1994 – 1996
Mark Schmidt Girls 1998 & 1999
Robbie Booth Boys 1999
Girls 2009 -
Paula Koot-Brennen Girls 2016 - 2019
AWARDS- For Service to Volleyball:
Phil Gayton
1998 Service Award to Volleyball New Zealand
1999 Taranaki Sports Awards- Outstanding contribution to Volleyball
2003 Awarded the O.N.Z.M (New Year Royal Honours)
2009 Awarded N.Z.S.S.S.C (School Sport New Zealand) Service to Sport Award
2014 T.S.S.S.A Service to Secondary School Sport Award
2017 Awarded Life membership of the Spotswood Volleyball Club
2017 Awarded Life membership of Volleyball Taranaki
2017 Awarded Life membership of Volleyball New Zealand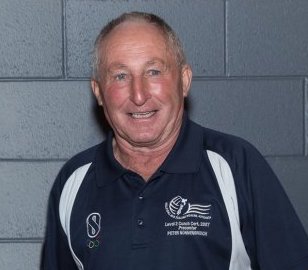 Antony Joe
2018 T.S.S.S.A. Service to Secondary School Sport Award